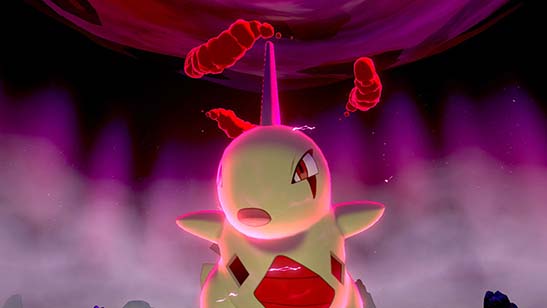 Larvitar won't appear in Pokémon Sword and Jangmo-o won't appear in Pokémon Shield during normal gameplay, but you'll be able to catch them in either version by using these Dynamax Crystals!
Use these steps, along with your code, to receive your Dynamax Crystals.
Launch your Pokémon Sword or Pokémon Shield game.
Select Mystery Gift on the X menu.
Select Get a Mystery Gift.
Select Get with Code/Password to connect to the internet.*
Enter your code.
Watch as the gift arrives in your game. (Pokémon will appear in your party or your Pokémon Boxes. Items will appear in your Bag.)
Be sure to save your game.
*Wireless broadband internet access required for online features. For more information, go to support.nintendo.com. See participating retailers for details. Server maintenance is scheduled to take place throughout the year. Code redemptions will not be possible during these times. Visit Pokemon.com for more information. One code per person; this code is not for resale. Games and system sold separately. Content distribution may be offered via online services at a future date. Gifts may become unavailable after a certain amount of time has passed since the release of Pokémon Sword and Pokémon Shield.
You'll need to reach the Wild Area in the game in order to use a Dynamax Crystal. (This occurs after about two hours of gameplay, though individual gameplay time may vary.)
Using a Dynamax Crystal will make a special Max Raid Battle available in your game. You'll be able to attempt these Max Raid Battles as many times as it takes to win or until midnight on the day that the Dynamax Crystal was used.
You can only use the code for each Dynamax Crystal in one game and save data. You can't receive the rewards more than once.